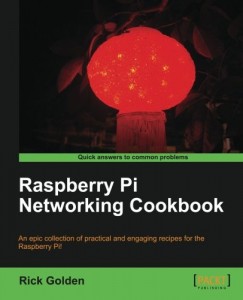 Raspberry Pi Networking Cookbook is a new book from Packt Publishing. It aims to give a complete set of instructions to use your Pi as personal server.
The first chapter covers the usual Raspberry Pi presentation with requirements and instructions to boot the Pi for the first time and make basic configuration. Most people who already own and use a Raspberry Pi can skip this chapter. But a quick read is a good thing to remind few facts about the Pi and its possibilities.
In the second chapter, the reader learns how to connect to Pi using SSH. It's nice to see examples from both Windows and Unix systems. It even covers the case of Raspberry reinstallation, when SSH does not recognize previous Raspberry SSH key. The chapter three then gives many basic Debian-based system (like Raspbian) tips to maintain the system, install and update packages.
Storage is completely covered in the chapter four. From adding USB or network storage, to making network sharing, this chapter give precise a concise instructions. This is very welcome for people who don't Linux well because the Pi can definitely lacks of storage space. Then, with it's low power consumption, the Pi is a good choice for a low cost file server. This allows to easy share between devices of your home network, very useful today with all those connecting things we can have at home : computers, tablet, phones, media players, tv… The only bad point is that only SAMBA network sharing is presented. FTP and and AFP (Apple/Mac) are both requirements on my side and for many users.
Finally, the fifth and last chapter explains few advanced setup and configuration :
Firewall setup and configuration, to protect your Pi from unauthorized access
RDP and VNC configuration, to remote graphically access your Pi Desktop
HTTP server with Apache, lighttpd, nginx
MediaWiki setup
Wireless Access Point
With all the features covered in this book, it's a very good choice for people who don't know where to start to use their Raspberry as a server. This is basically a set of commons Linux/Debian tasks, compiled into a single book.
There is one thing which disturbed me, a screen is required for the first steps of this book. In my mind, using a Pi as a server means never plug it to a display. On my side, I NEVER plugged any display to my Raspberry Pis since I've got one. First, SSH access is enabled by default on Raspbian since a while. Secondly, we can found the Raspberry network address using one of many network scanner. I really like Fing, which is freely available on Windows, Mac, Linux, iOS and Android. This two tips are enough to use the Pi from the setup without any display plugged in.
Then, I think two setup are missing : DHCP and DNS server, with DNSmasq for example. Most of home routers do not provide a decent DHCP server or local DNS and the Pi is a perfect candidate to do that, thanks of its low power consumption. This is a really advanced features, and most people can afford with their existing setup.
I really liked all links and sources to the software used in the book. With all clear instructions and informations given, anyone should be able to build the perfect server for their need using a Raspberry Pi, low cost and low energy.
This book is already available at Packt Publishing and Amazon.